Travel Information
How to reach Bolzano:
By plane
If you come by plane, there are several options. One option is to book a flight to Rome and from there get a connection flight directly to the airport of Bolzano (for details check www.alitalia.it). Alternatively, you can book a flight to Munich, Innsbruck, Verona, Venice or Milan and then take the train to Bolzano (the time needed for the train journey is approximately 4h, 2h, 4h, and 4h respectively).
Useful links:
www.abd-airport.it
- Airport ABD, Bolzano/Bozen, Italy
www.aeroportoverona.it
- Airport Valerio Catullo, Verona, Italy
www.sacbo.it
- Airport Orio al Serio, Bergamo, Italy
www.adr.it
- Airport Fiumicino and Ciampino, Roma, Italy
www.innsbruck-airport.com
- Airport Innsbruck, Austria
www.munich-airport.de
- Airport München, Germany
By train
Bolzano is reachable by train from Munich (Germany) or Innsbruck (Austria) and from the main Italian cities such as Milan, Verona or Venice. The timetable of trains is available online at www.trenitalia.it or www.db.de.
The main train station is called "Bolzano Bozen" in online booking systems, and most of the trains stops there. The Free University of Bozen-Bolzano is easily reachable on foot (10 minutes walk) from the main train station. Few trains also stop in "Bolzano Sud", in case you have the hotel booked in the south part of the city. In any case, it can be easier to stop in the main train station and take a taxi to the hotel. If you booked the hotel in the center, fom the main station you can easily walk to your hotel just crossing the round-about and going straight to the city center (just 5 minutes walking).
Please note: in the train stations there are yellow machines for punching tickets. Tickets need to be punched before boarding the first train of the trip.
Train distances from the main connecting cities: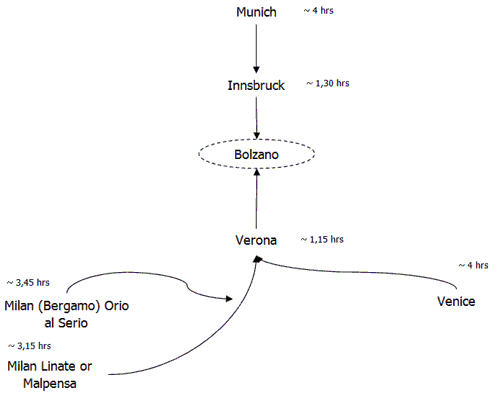 By car
Short indications:
- Brenner motorway A22, exit Bolzano Sud/Nord, toward the centre
- SS 12 from Trento and from Brennero, toward the centre
- SS 38 from the Passo Resia, toward the centre
- Superstrada MeBo from Merano toward the centre
View
ESEIW
in a larger map